Mike Frese, District Superintendent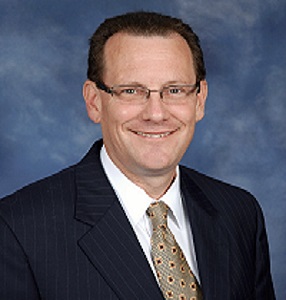 Mike is a native of Iowa and graduated from the University of Iowa with a major in Religious Studies.  He moved to North Carolina in 1990 to attend Duke Divinity School and serve as a student pastor.  Mike has served in rural, small-town and urban settings.  He also has served as an associate, solo and senior pastor.  Most recently he has moved from being the senior pastor at Millbrook United Methodist Church.  Mike has a deep love of theology and he is passionate about the importance of the local church as the chief site for missional work to the world.
Along with serving the local churches and communities to which he has been appointed, Mike has served as the chaplain to the General Assembly for 2 terms.  He also has served on two district DCOMs and most recently on the conference BOM for the past 10+ years.
Mike is married to Patty and they have been blessed through the covenant of marriage since 1985.  They have two grown daughters, both married – Jessica and Caitlin.  Jessica lives in Raleigh and Caitlin lives in Drayden, Maryland.  They also have two grandchildren, Joanna and Caleb.
Sarah Carter, Corridor/ Heritage Administrative Assistant to the DS
Sarah was born and raised in North Carolina and has been a life-long Methodist. She graduated from UNC-Chapel Hill in 1987. A few years later she earned a Masters of Education in Counseling from UNC-Greensboro. Sarah has worked in various counseling settings, with her most recent being a School Counselor.
Sarah has been married to Ross for over 30 years. They have two wonderful adult daughters, Becca and Mary Catherine. Sarah enjoys spending time with family and friends, cheering for the Tarheels, and traveling.
District Lay Leader: Tommy Humphries
I have been a resident of Roxboro my entire life. I graduated from East Carolina University with a BSBA degree. After graduation, my first job was in the banking industry, and later I served as Clerk of Superior Court for 25 years. My current career is in real estate sales. 
My wife, Sally, and I have 3 grown children (Laura, Emily, William) and 4 grandchildren (Lilly, Tripp, Bradsher, William III). 
I have been a member of Long Memorial United Methodist Church for 60+ years and currently serve as Lay Leader and a member of the chancel choir. 
In 2007 I received a heart transplant. Since that time I have been a volunteer at Duke University Health Center. I am a team captain for the annual Triangle Heart Walk. 
You may contact him at tommy.humphries@nccumc.org